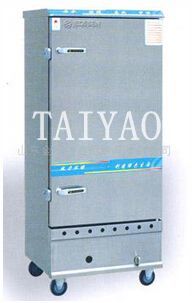 Commercial stainless steel cooking gas Steamer
Product Description
Specifications
Electric heating and steam heating dual function
Overall foaming

Introduction:
TAIYAO Commercial Gas Rice Steamer widely used in hotel,restaurant and factory,mining area, troops,school and canteen,etc.Can used to steaming rice, flour product,fish,meat and table-ware disinfection.
Characteristic:
The burner series of special products
With concise and beautiful appearance,all stainless steel shell and stainless steel inner container,Heat-resistant rigid polyurethane overall foam,Silicone high-temperature sealing ring,make the heat insulation performance is good, strong sealing performance, long heat preservation time, economy is durable.
Internal combustion gas steam generator, no noise, no smoke, high thermal efficiency, energy conservation and environmental protection.
.In the cabinet have a floating ball type automatic switch water valve and drain valve.
Contact Us
Boxing Industry Park, Binzhou, Shandong, 256500, China
Phone :+8618654309175